admin | 21.07.2021
Ar putea fi ultimul an in care WSOP-ul se joaca la Rio in Las Vegas. Bally's si Paris urmatoarele destinatii?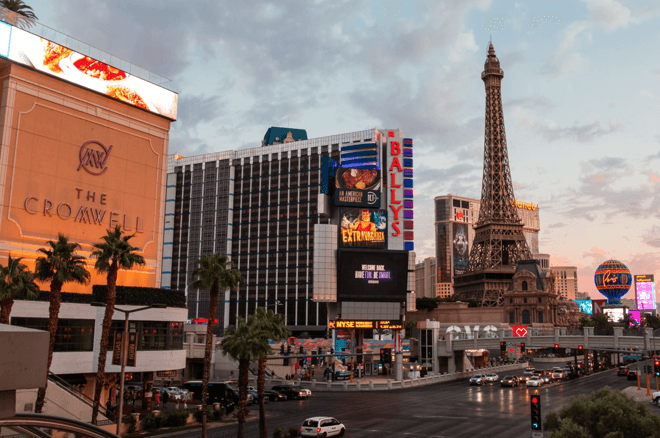 Festivalul World Series of Poker revine in acest an la Rio All-Suite Hotel & Casino din Las Vegas dupa o pauza de 2 ani cauzata de pandemia de coronavirus, spectacolul din aceasta toamna urmand sa fie alcatuit din 88 de evenimente. Ar putea fi ultimul an in care WSOP-ul se desfasoara in aceasta locatie, existand zvonuri ca incepand cu anul 2022 Bally's si Paris de pe acelasi bulevard din Las Vegas ar fi noile gazde ale competitiei.
Zvonurile despre schimbarea locului de desfasurare World Series of Poker incepand cu anul viitor, au fost facute public de The Valley National 8-Ball League Association (VNLA) intr-un post pe facebook, organizatie de biliard care isi desfasura anual campionatele la Bally's, dar care incepand cu 2022 se va muta la Westgate. In post s-ar fi notat faptul ca organizatia si-a incheiat brusc contractul cu Bally's, intrucat din anul 2022 World Series of Poker se va muta acolo.
Ty Stewart, director executiv WSOP, a declarat ca la aceasta ora brandul pe care il conduce nu are de facut niciun comentariu referitor la locul de desfasurare al WSOP-ului in 2022.
Interesant este ca Bally's Hotel & Casino este detinuta de Caesars Entertainment, compania-mama care detine brand-ul WSOP. Bally's are 175.000 de metri patrati (vecina Paris avand alti 140.000 de metri patrati), in vreme ce la Rio-All Suite Hotel & Casino, WSOP ar utiliza un trio de camere din care se remarca Rio Pavillion – 55.000 de metri patrati si Amazon Room – 39.060 metri patrati, sufrafata totala a Rio fiind de aproximativ 140.000 de metri patrati.
Incepand cu anul 2005, Rio All-Suite Hotel & Casino din Las Vegas a fost singura gazda care a organizat competitia World Series of Poker, cel mai mare eveniment pokeristic la nivel global care se desfasura traditional in fiecare vara in Orasul Pacatelor. Anul acesta, competitia va debuta la sfarsitul lunii septembrie si se va desfasura pana in a doua jumatate a lunii noiembrie.
Sursa foto: Pokernews
Ar putea fi ultimul an in care WSOP-ul se joaca la Rio in Las Vegas. Bally's si Paris urmatoarele destinatii? comentarii